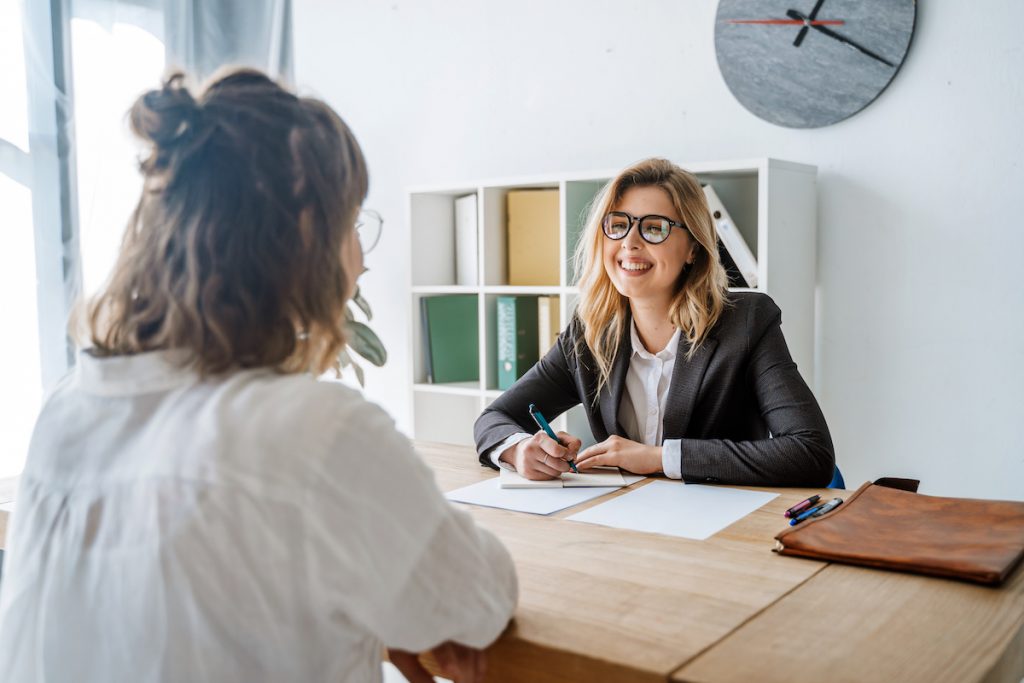 Your interviewer asks, "so, why do you want to work here?" and your mind immediately goes blank. You don't want to lie and say you've loved the company for years because you didn't know about it until the job posting came up, and there's not enough personality in saying you've generally always wanted to "run a fashion brand's social media" or whatever the position may entail.
But then what do you say?
There's a foolproof method to answering this question. No matter how you phrase your answer, be sure to incorporate the following three factors and you'll nail it.
2. Explain how your values align
Sure, maybe you don't know the company when you apply, but you'll have enough of a heads up to do extensive research. When you're doing this research, a key thing to look for is the company's values. Often they're displayed proudly on the company website, but even by looking through social media posts and news articles, you can get a grasp on their values, seeing what charities they partner with, or any sort of social or environmental initiatives they've taken on.
In the interview, bring up those values and explain how they align with yours. This demonstrates both that you're familiar with the company and that you'll be a great cultural fit. It shows that you're applying for a noble reason – because you genuinely would be proud to stand with the company.
Example: Let's say you apply to work with a fashion label that only uses faux fur and vegan leather, and they've donated money to dog rescues. You're an animal lover who used to volunteer at your local humane society. In the interview, explain why their commitment to helping animals is close to your heart, and then prove it by pointing to your past volunteer work.
2. Stress that you'll enjoy the responsibilities
Nobody wants to hire someone who hates their job. Even if this potential job isn't ideal, look for what you will enjoy within the responsibilities. Study the job posting and pull out whatever it is that draws you into that position, then sprinkle those throughout your interview answer. Emphasize that you're looking forward to said responsibilities. Someone who isn't excited about these tasks is more likely to fail at them, considering they don't want to be doing them in the first place. You need to look like you'll succeed – and not only that, but you'd be happy to be doing those tasks even if success wasn't an option.
Example: The job posting says you'll mainly be responsible for videography and photography. Your whole life, you've always filmed important moments and made movies with your friends. Tell the interviewer you have a deep passion for videography and you've spent many years (and get specific with the number!) perfecting your craft. State that videography is something you've pursued without getting paid for it, and you'd love the opportunity to turn a hobby into a career.
3. Share skills that'll lead to success
Passions and values can only get you so far. You need to provide concrete evidence that you'll thrive in this position. Explain how your skills have led to success in the past. Study the qualifications and responsibilities on the job posting and make note of skills you possess that match up. Think about how said skills have made you successful at past workplaces in ways you can prove – think of brief anecdotes or dig up old metrics. The more specific, the better.
You can also pepper your skills throughout the rest of the answer – when discussing which responsibilities you enjoy, you can also slip in how you've used your skills to excel at those responsibilities in the past.
Example: The job posting says you'll run multiple TikTok and Instagram campaigns, and you've been a social media manager in the past. Share what companies you've run TikTok and Instagram accounts for, and be specific about the increase in followers, interactions, conversions etc. since you began running the accounts.
Don't forget to plan your answer out and study it when you're preparing for your interview. You don't have to repeat it word for word, but it's good to have this formula as well as your answers as implanted in your brain as possible. After that, there's no stress when this question comes up – you'll show exactly how you'd thrive at any workplace!
Want some pointers from an interview pro? Book a Style Nine to Five Interview Prep session!
Emily Morrison is a media professional with passions for writing, film and popular culture.