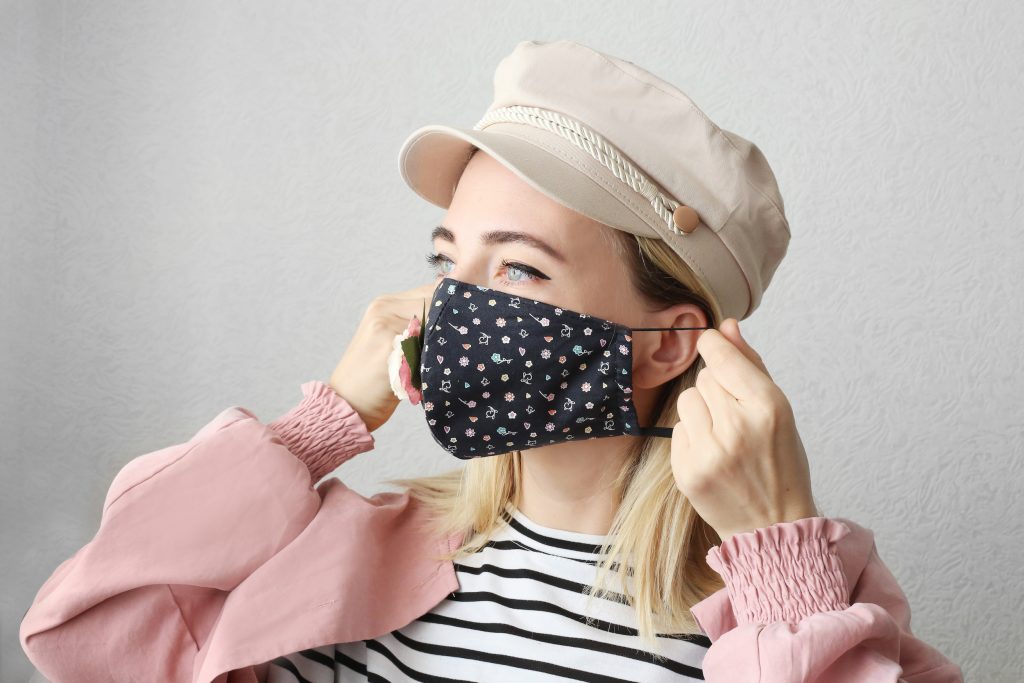 In efforts to prevent the spread of the coronavirus across the country, Canadian companies are stepping up to design comfortable, and fashionable, non-medical masks.
Atelier Elise Bridal Accessories announced on Instagram that it's switching the sewing machine gears to include face masks.
Elise told Style Nine to Five that she personally felt compelled to help people because she has loved ones on the front lines — her husband is a police officer and she is the sister of a doctor.
"I feel passionately that medical PPE [personal protective equipment] should be saved for our frontline workers and those who are immuno-compromised," Elise said, "sewing is becoming a bit of lost art for future generations and so it seemed like an important time to contribute my expertise."
"I know that sewing is not a skill that many possess these days and I thought it was important to help in any way I can," the company said. Atelier Elise added it has business expenses to cover as well.
Elise said making these face masks allow her to employ local makers and support staff, "I am proud to say we are currently 14 strong and counting."
Atelier Elise will be offering two types of masks: pleated or fitted
"Each mask has a nose wire to ensure a close fit, as well as the inner pocket for an added filtration layer," it said, explaining industrial and coffee filters, paper towel, and or extra fabric around the house have all been suggested as filters.
"Canadians have been doing an incredible job doing their part to flatten the curve and my hope is that these masks further our collective effort in that goal," Elise said.
If you would like to be part of Atelier Elise's initiative of making face masks, the bridal company is offering a Contract Sewing Opportunity on Style Nine to Five.
Gentle Fawn said on Instagram that it was inspired to do its part to create a collection of lifestyle masks, which are available for pre-order.
"Using salvaged materials from our current collection, we were able to make a sustainable impact while providing something to keep us all a little safer," it said online.
"Gentle Fawn's face masks are a washable and reusable non-medical mask meant to be used as an additional measure to protect yourself and those around you," it said online. "Not only are you contributing to the health and safety of your community by wearing this mask, you can feel good knowing that the materials used are being saved from landfills."
The Vancouver-based fashion company also said that for every pack of masks purchased it will be donating to Mamas For Mamas.
Kit and Ace announced its new Go Anywhere face mask will be launching in the beginning of next month.
On Instagram, the company said its mask is made with "triple layer protective construction and the double duty of keeping you safe while supporting the frontline."
Kit and Ace Head of Product Kaila Tyndall said the company saw the "emerging need for face masks in our communities," adding, "we applied what Kit and Ace does for all our apparel, and thought about what would make the most comfortable and functional mask – so we made it!"
"We aim to be at the forefront of what our guests need to go anywhere, even when it's something we never could have imagined we would need," Kaila said.
Kit and Ace said 100% of face mask profits will be donated to COVID-19 relief efforts, and is working with the community to select charities within Canada and the US.
The company said it's still in the process of reviewing organizations, and is taking suggestions at helpme@kitandace.com or by commenting on its Instagram post.
"We feel privileged to be able to provide face masks, as they are needed in our current circumstances. We value the health and safety of our communities and want to be able to support in providing masks," Kaila said.
Another Canadian fashion brand creating face masks, and giving back to the community, is the Peace Collective.
The Toronto-based company said on Instagram that it shifted its manufacturing to create washable and reusable masks.
It said masks are "functional, protective and designed to match your everyday outfits."
The Peace Collective said on IG masks are multi-layered for extra protection, designed for extra comfort, adjustable and formfitting, and include a disposable filter.
"Every purchase provides a face mask to someone working on the front line," it said on IG.
At Style Nine to Five, we are wishing you a healthy and safe rest of your week, and long weekend!
Feature image: Adobe Stock, By Maria Kasimova
By: Michelle Morton – Michelle is a Canadian multimedia journalist with a passion for telling stories, exploring the world, speaking for voices not heard, and of course, fashion!
Are you a job seeker? Find fashion jobs here.
Are you an employer? Post your fashion job here.
Don't forget to follow us on Instagram for the latest fashion jobs, career advice and fashion trends!