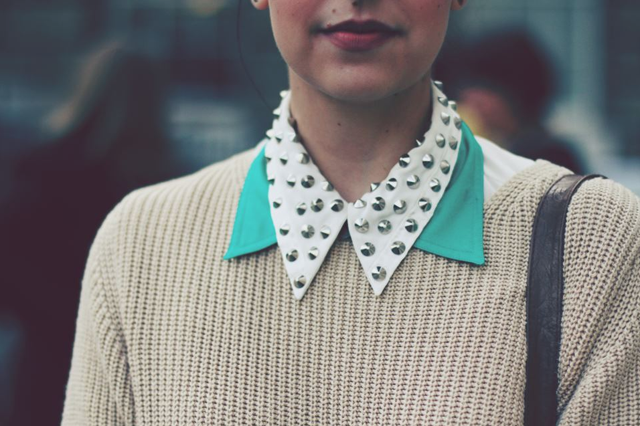 2011 had it's fair share of memorable trends (think long skirts, stacked bracelets, and fur vests) but one trend that seems to be breezing into 2012 is the buttoned up collar.
Whether it's a subtle white oxford under a cable knit, or a bejeweled creation over a LBD, collars are the best trend to hit the streets in years because of their versatility; Blogs are abundant with the sartorially-inclined finding new ways to incorporate the trend. And ladies, be ready to wear this in a myriad of ways, this trend comes with a medley of options; from prim peter pan collars, to the over sized and pointy, to great detachable varieties.
So get your collars poppin' and be street-style ready in the season's newest trend.
1. Inspiration picture is from Topshop's Tumblr
2. Eleven Objects swarovski crystal collar $695 US, available at Eleven Objects
3. Akira brown pony hair collar $35 US, available at Shop Akira
4. Aritzia peyton blouse $110, available at Aritzia
5. Joe Fresh silk shirt $39, available at Joe Fresh
6. Forever21 peter pan collar blouse $24, available at Forever21
7. Asos Whistles spot blouse $159.38, available at ASOS
By: Noémie McGovern of As Ink Remains, Toronto
You should follow me on Twitter @AsInkRemains.
Are you an employer? Post your job here.
Are you a job seeker? Find fashion jobs here.