Sales Associate/Back of House Staff
Location

South Surrey, Canada

Date Posted

June 29, 2021

Category

Sales



Job Type

Part-time



Description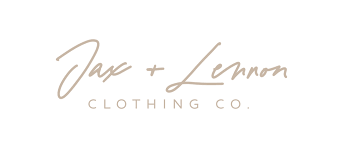 Are you an enthusiastic self-starter wanting to make a big impact with a local business? Are you passionate about sustainability and love working within a small tight-knit team? We're looking for you! We're looking for an energetic and motivated part time sales associate to join our team, at our  boutique in South Surrey.
W H O   W E   A R E 
Jax & Lennon Clothing Co. specializes in luxury bamboo & organic cotton essentials that are sustainably, ethically and locally made with style & comfort in mind.
Our line is meant to last, to be played in, to be dirtied, and then to be passed on.
All of our jersey and terry items are made with love in Canada.
O U R   S T O R Y
Kelsie Power, mom of three, first began making clothing from home when her firstborn, Jax, was a baby. Soon friends wanted in and a quick snowball effect turned a little sewing hobby into a business! Jax & Lennon Clothing Co has been operating for 7 years now, and Kelsie continues to grow her business and add new styles to her collections. Employing 7 staff at her warehouse, and a local 2-facility manufacturer, they are doing their part to support and employ locals in their community.
Kelsie's kids are her inspiration and her husband is her #1 supporter, always there with ideas and to help make her dreams a reality.
B E N E F I T S:
• Competitive wages and opportunities for growth within J&L.
• Generous employee discounts and incentives.
• Optional health coverage for part-time employees.
R E S P O N S B I L I T I E S  
• Provide excellent customer service and high levels of customer satisfaction.
• Keeping the boutique floor clean, tidy and well organized at all times.
• Building and maintaining relationships with J&L customers.
• Learning and understanding J&L policies and procedures as well as J&L product knowledge.
• Understanding J&L sales targets, goals and expectations.
• Restocking products and light merchandising.
• BOH work including processing new stock and picking online orders.
Q U A L I F I C A T I O N S
• 0 – 3 years of retail experience.
• Comfortable and confident engaging customers in an intimate store setting & working independently.
• Available to work during boutique open hours: Monday – Friday, 9am – 4:30pm.
• Able to lift up to 40lbs.
Experience with Shopify an asset but not required.